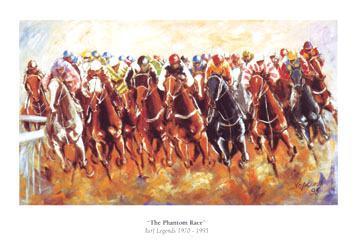 Gunsynd, Kingston Town, Lets Elope, Super Impose and others --The Phantom Race
TURF LEGENDS--1970-1995 LIMITED EDITION PRINT BY PAM HOPKINS
This Limited Edition print is from a painting depicting an imaginary horse race between twenty-eight champion horses who raced during the years between 1970 and 1995. Each print is supplied with a list of the names of the horses involved. The horses are coming round the turn, so it is up to the viewer to decide who the winner will be.
The Legends are, from left to right---
Bonecrusher, Gunsynd, Leilani, Emancipation, Red Anchor, Vo Rogue, Luskin Star, Let's Elope, Campaign King, Bounding Away, Better Loosen Up, Naturalism, Balmerino, Grand Cidium, Super Impose, Rubiton, Family of Man, All Shot, Veandercross, Kingston Town, Schillaci, Raffindale, Tristarc, Manikato, Taj Rossi, Ming Dynasty, Battle Heights, and Rough Habit
image size - 795mm x 465mm 
Framed $240
Loose in tube - $60
This print is heavily discounted. It has been a huge success for us over the years but now it's time to say goodbye.
---
We Also Recommend