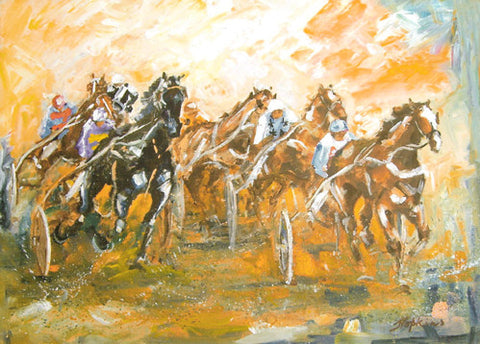 Six Great Pacers
Another in my Fantasy Series
I have always loved harness Racing, though I am a long way from considering myself an expert!
I had to get some advice from an expert for this one. Thanks Larry.
To make the selection process easier, I decided to stick to pacers. I'm sure there are plenty who
deserve to be in the race. Please forgive me if I've left out your favourite!
The following is a list of the horses, with a summary of their achievements.
38cm x 28cm
Paper print
Outside framed size 66cm x 53cm

Look on 'Framing' page for frame description.
Paleface Adios (1969 - 1989) was an Australian harness racing horse which competed as a pacer throughout the 1970s and early 1980s. He raced from 1972 to 1981, (from two-years-old until he was retired at 11 years-old) when there was top competition from the likes of the Hondo Grattan, Robalan and Pure Steel.
He was a chestnut Standardbred pacer with a white blaze and feet, and a golden mane. Paleface Adios was foaled on 1 November 1969, at Temora, NSW and was by Deep Adios (by Adios) out of Rayjen by Brigade Command. Rayjen was the dam of several full siblings to Paleface Adios, but they failed to match his ability as racehorses.
Hondo Grattan was a Standardbred pacer from Bathurst, New South Wales known as the "Bathurst Bulldog". He won the Inter Dominion Pacing Championship in both 1973 and 1974, becoming the first horse to successfully defend an Inter Dominion title. Hondo Grattan was the first horse in Australia to win (AUD)$200,000 and also the first horse to win 21 races at Harold Park Paceway
 He was a winner at a time of top competition, that included horses such as Pure Steel and Paleface Adios.
Cardigan Bay was a New Zealand Harness racing horse foaled 1 September 1956. Affectionately known as "Cardy", he was the first Standardbred to win US$1 million in prize money in North America. He was the ninth horse worldwide to win one million dollars, (the first eight were Thoroughbreds). Cardigan Bay won races in New Zealand, Australia, Canada and the United States.
Along with his arch-rival, American champion of the day, Bret Hanover, he has a legitimate claim of being one of the truly great Standardbred racehorses. Cardigan Bay became an overnight sensation in the United States, and appeared with Dancer on theEd Sullivan show as the "million dollar horse".
Blacks A Fake is a brown Standardbred gelding that won the 2006, 2007, 2008 and 2010 Inter Dominion Championships, making him the only four-time winner of Australasia's premier harness race. He finished second, beaten by a long neck, in the 2009 Inter Dominion to Mr Feelgood (USA). His other achievements include wins in the Victoria Cup and Hunter Cup and three Australian Horse of the Year titles. He isAustralasia's highest earning Standardbred, and (excluding exchange-rate considerations) is the world's highest earning pacer.
Foaled on 7 October 2000, Blacks A Fake is a son of the Little Brown Jug Series winner and a Leading Australian Sire, Fake Left (USA), out of Colada Hanover by Vanston Hanover. Blacks A Fake was inbred to the million dollar winner, Albatross, in the third generation (3x3).
He was trained and driven by young Natalie Rasmussen throughout his entire career. Natalie has been very patient with the champion pacer. Blacks a Fake suffered a major injury in 2003 and it was only due to the outstanding faith and hard work from Natalie that "Blackie" was able to return to pacing history. Natalie has had to overcome crippling injuries in the early 2000s herself when it was thought that she would never be able to drive pacers again. Natalie is the first woman in Australia to have trained and driven an Inter Dominion winner and the first Queenslander to win four.
Our Sir Vancelot is a New Zealand standardbred stallion. Known as Sir Vancelot in New Zealand, he won a record three straightInter Dominion finals, 1997, 1998  and 1999. This is a record that was equalled in 2008 by Blacks A Fake.
In addition to the three Inter Dominions, he also won the 1997 Miracle Mile.Over his career, he won 48 races, from 97 starts for a total prizemoney earnings of $2,197,990.
Christian Cullen is a Standardbred stallion and was one of New Zealand's best pacers. Named after the New Zealand international rugby union player, Christian Cullen, he won 22 of his 31 starts, and $NZ1,249,150 in prize money. He is notable in that he won both the Auckland Trotting Cup and New Zealand Trotting Cup races, the richest harness races in New Zealand. 
---
We Also Recommend