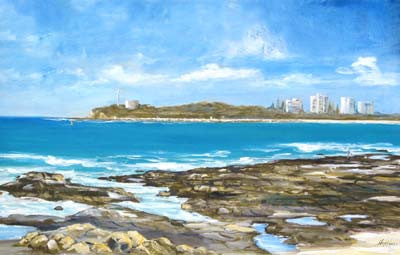 Magnificent Mooloolaba
MAGNIFICENT MOOLOOLABA
This painting is the view from the rocks at Alexandra Headland looking towards Point Cartwright.
My family discovered this area in the 1950s, when things were very different. All you needed for a surfside holiday in those days, was a tent.
Things have changed, some say for the better. Others say they preferred the way it used to be. 
Nevertheless, it is still one of the most beautiful areas of coastline in the world.
'Magnificent Mooloolaba' is an acrylic on board. The image size is 79cm x 42cm. It is double-matted and framed under glass with a gold frame. Outside framed size is 110cm x 74cm. 
Price is $1500, and I will pack and send it free of charge.
I can email a photo of the framed work if requested.
---
We Also Recommend