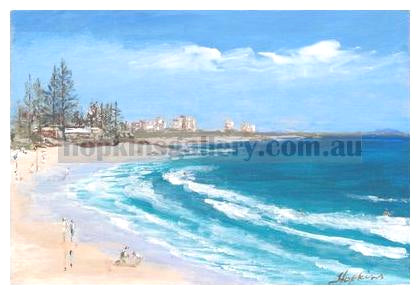 Alexandra Headland - At Alex
My family discovered this beach in 1955 when my parents bought a block of land for $1500! What a bargain!
My dad built a little house there and planned to live there forever. He received an offer he couldn't refuse within two months of finishing the house, and the rest is history. Everyone has one of those 'What if-'stories' I suppose. The little house was the last remaining beach shack along the Esplanade till about 1995 when it was pulled down for a block of units. The mind boggles trying to imagine how many millions it sold for!
But I digress. For many years, the strip of land along the ocean had been a popular camping spot for the annual influx of 
Summer tourists. Bureaucracy has closed almost all those favourite camping spots, thus making it virtually impossible for your everyday Mum and Dad to get a cheap holiday.
The patrolled area at Alex, as it is affectionately called, is quite small, being bounded by coffee rock most of the year to the north, and Alexandra Headland to the south. It is a popular surfing beach, as well as being a mecca for families.
---
We Also Recommend